Existential psychotherapy: Working with uncertainty – A seminar with Professor Ernesto Spinelli in Stockport on Friday 17th March 2017
09:30 – 16:00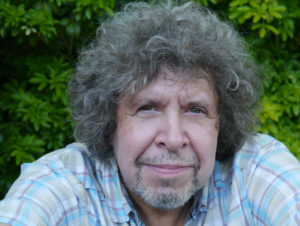 In November 2013 Professor Ernesto Spinelli ran a seminar for Mindsite on his approach to existential psychotherapy.  On Friday 17th March 2017, he will return to provide further insights.  In this seminar he will address the topical question of working therapeutically with uncertainty.
Current issues such as global instability, climate change, and Brexit lead to increased levels of anxiety and confusion. These highlight the degree to which uncertainly permeates our lives. At the same time pundits and experts constantly remind us that 'we are in an entirely novel set of circumstances'. As a result, 'We can assume nothing and cannot rely on past solutions.' All of this leads to significant unease and confusion.
Existential psychotherapy and uncertainly
Among contemporary psychotherapeutic models, existential psychotherapy emphasises the inevitability of uncertainty. Within its foundational stance of relatedness there is no single point of focus.  "I" can never fully determine, with complete and final certainty: what and how the world will be; how others will be; or even how "I" will be at any time.
The inevitability of uncertainty, and the openness of existence it proclaims, alert us to certain things.  Notably, that prior knowledge, values, assumptions and beliefs regarding self, others and the world are untrustworthy.  And they may be "opened" to challenge, reconsideration or dissolution at any time. Paradoxically, existential psychology argues that uncertainty remains a constant given of human experience, not just an occasional and temporary consequence of unusual circumstances.
If existential psychotherapy is correct in this, what might it tell us about the practical aspects of working with uncertainty as therapists and counsellors?
The workshop will address this issue.  It will consider how to draw out and work with the (often) implicit fears and concerns regarding the uncertainty experienced by both therapists and clients.  And it will look at how their constructive possibilities may be enhanced and incorporated into the therapeutic encounter.
Overview of Seminar
Morning 1 – An overview of existential theory focusing on uncertainty
Uncertainty is a key component of existential thought and existential psychotherapy. It is seen as an inevitable outcome of the foundational principle of relatedness. This part of the seminar will introduce these key ideas and consider them within the context of an existential approach to therapy.
Break
Morning 2 – Working with existential tensions
Existential psychotherapy places a great deal of emphasis on the exploration and clarification of the client's worldview. The existential worldview is considered from the standpoint of various relational polarities, or existential tensions. This part of the seminar will explore the ideas associated with existential tensions and consider their role and value within a therapeutic framework.
Lunch
Afternoon 1 – Working with uncertainty within the immediacy of the therapeutic encounter
Existential psychotherapy emphasises the immediacy of the interactions and relations between therapist and client. In doing so, it urges the therapist to be willing to embrace the many uncertain possibilities and challenges that will arise within any therapeutic encounter. In effect, it asks therapists to consider their expertise within the framework of uncertainty. This part of the seminar will explore how therapists can become more open to the possibilities of uncertainty within their practice.
Break
Afternoon 2 – Working with uncertainty within the immediacy of the therapeutic encounter continued
End
The seminar leader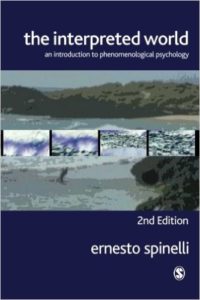 Professor Ernesto Spinelli was Chair of the Society for Existential Analysis between 1993 and 1999 and is a Life Member of the Society.  His writings, lectures and seminars focus on the application of existential-phenomenology to the arenas of therapy, psychology, and executive coaching.  He is a UKCP registered existential psychotherapist, a Fellow of the British Psychological Society (BPS) and the British Association for Counselling and Psychotherapy (BACP) as well as an APECS accredited executive coach and coaching supervisor.  In 1999,
Ernesto was awarded a Personal Chair as Professor of psychotherapy, counselling and counselling psychology.  And in 2000, he was the recipient of the BPS Division of Counselling Psychology Award for Outstanding Contribution to the Profession.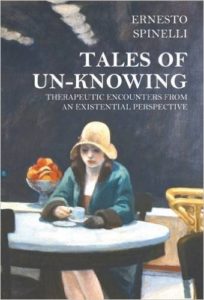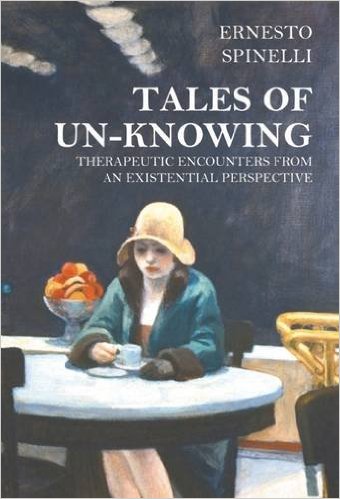 His most recent book, Practising existential therapy: The relational world 2nd ed (Sage, 2015) has been widely praised as a major contribution to the advancement of existential theory and practice.
Previous books include: The interpreted world: An introduction to phenomenological psychology, 2nd ed (Sage, 2005); Demystifying therapy (PCCS, 2006); Tales of un-knowing (PCCS, 2006); and The mirror and the hammer: Challenging therapeutic orthodoxies (Sage, 2001). Ernesto is currently at work on several projects whose completion remains entirely uncertain.
For some good background on Ernesto's approach to existential psychotherapy watch the YouTube video below:
Practical arrangements
The event will start at 09:30 and finish at 16:00.
The cost is £130 per delegate. For registrations made before 16th December, there will be an 'Early bird' rate of £115.  After this date we will maintain this rate for groups of three or more people who book and pay together.
To download the flyer for the second edition of Professor Spinelli's latest book Practicing existential therapy: The relational world click here.
The event, which includes lunch, will be held in the familiar surroundings of Cheshire Conference and Events at Edgeley Park Stadium in Stockport.
6 hours CPD. An individually signed certificate of attendance will be provided to all registered delegates. Those who register within 24 hours of the event, or who wish to obtain a duplicate, can order one from the website.
To register and pay online click on the Eventbrite 'Register Now; button. You can book with confidence through Eventbrite, and pay by PayPal or card. To request an invoice and pay offline by cheque or direct transfer email us at events@mindsite.co.uk , or call Jonathan on 0161 439 7773. To view our cancellation policy click here.
References
Spinelli, E. (2001). The mirror and the hammer: Challenging therapeutic orthodoxies. London: Sage.
Spinelli, E. (2005). The interpreted world : an introduction to phenomenological psychology (2nd ed.). London: SAGE.
Spinelli, E. (2006a). Demystifying therapy (2nd ed.). Ross-on-Wye: PCCS.
Spinelli, E. (2006b). Tales of un-knowing : eight stories of existential therapy. Ross-on-Wye: PCCS.
Spinelli, E. (2015). Practising existential therapy : the relational world (2nd ed.). London: Sage.